Actress Toni Gonzaga's name has been trending for a while now and it's not because of an upcoming project. She has been openly campaigning for presidential aspirant Ferdinand "Bongbong" Marcos Jr. whose father was the late dictator Ferdinand Marcos. She also showed support for a lawmaker who opposed the franchise renewal of her network ABS-CBN. And with Toni Gonzaga announcing she's stepping down as Pinoy Big Brother's main host, many netizens can't help but compare her with her friend and co-host Bianca Gonzalez, who's rumored to replace her and who noticeably supports the opposition. What does the Internet have to say?
Toni Gonzaga gets flak from the Internet
While we can't pinpoint the exact day many of her fans' love turned sour, there are a lot of occasions that could mark it. There was the controversial interview with Marcos Jr. posted on Gonzaga's YouTube channel. Her husband, Director Paul Soriano, also shot Marcos Jr. and running mate Davao Mayor Sara Duterte-Carpio's UniTeam commercial. Most recently, Gonzaga hosted UniTeam's proclamation rally held at the Philippine Arena on February 8, the first day of the campaign period.
After playing Bagong Lipunan, Toni Gonzaga shouts: "Tapos na, may nanalo na, tapos ang laban. Buhay na buhay ang pagmamahal kay Apo Lakay Ferdinand Marcos."

70,000 detained, 34,000 tortured and 3,240 killed during martial law. pic.twitter.com/SuC77eOi7A

— Lian Buan (@lianbuan) February 8, 2022
At the rally, also introduced Rep. Rodante Marcoleta, a lawmaker who pushed to deny ABS-CBN's franchise renewal which cost 11,000 Filipinos their jobs. Gonzaga's name has been trending online since then.
'Wag Sa Magnanakaw: The Internet Applauds Angelica Panganiban's Sassy Reminder to Vote Wisely
'Wag Sa Magnanakaw: The Internet Applauds Angelica Panganiban's Sassy Reminder to Vote Wisely
Kyzia Maramara | Feb 02, 2022
Toni Gonzaga steps down as Pinoy Big Brother host
View this post on Instagram
Fresh off her UniTeam proclamation rally hosting gig, Gonzaga dropped a bomb on her followers. On February 9, she announced that she is stepping down as Pinoy Big Brother's main host for 16 years. "From witnessing all my co-hosts transition from housemates to 'PBB' hosts are just some of the best moments in my life sa Bahay ni Kuya," she wrote. In the note she posted, she also "voluntarily" endorsed actress and co-host Bianca Gonzalez as her replacement.
Her announcement received mixed reactions and comments. "You're a queen forever! Nobody does it like you do sis," commented Gonzaga's sister, actress Alex Gonzaga. Her husband, Soriano, left a heart emoji. Online influencer Winnie Wong even wrote what so many Filipinos were thinking: "The OG." On the flip side, there were also comments from critics that were "relieved" she's leaving the show.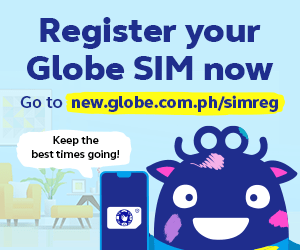 Netizens think Toni Gonzaga leaving PBB was only right
Gonzaga introducing Marcoleta during UniTeam's proclamation rally hit a nerve in many Filipinos. It doesn't sit right with them that she was supporting someone who denied her home network's franchise renewal.
In the comments section of her PBB announcement, Filipino netizens left messages of shock. "Mabuti naman, my gad! Si Marcoleta ba naman inindorso mo? Di mo ba naisip mga rank and file employee ng ABS-CBN? Mabuti kayo malalaki ang kita, sila? Nakakagulat ka," wrote one netizen.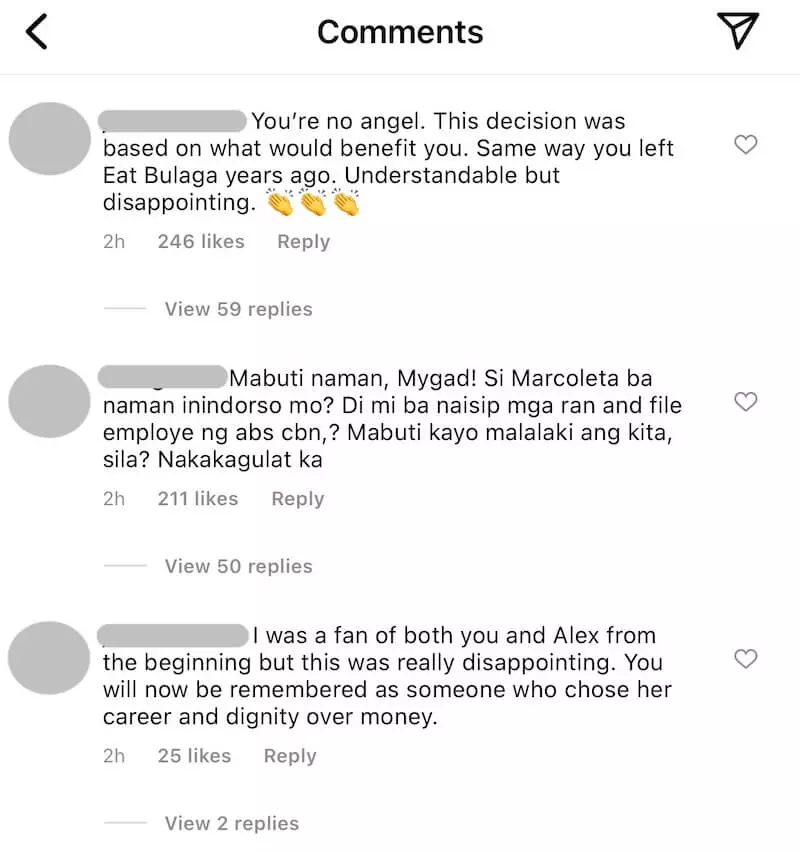 #MVTVProgramming: 8 TV Shows To Expect From Manny Villar's Acquisition Of The ABS-CBN Frequencies
#MVTVProgramming: 8 TV Shows To Expect From Manny Villar's Acquisition Of The ABS-CBN Frequencies
Kel Fabie | Jan 28, 2022
Some even have their theories about why the actress left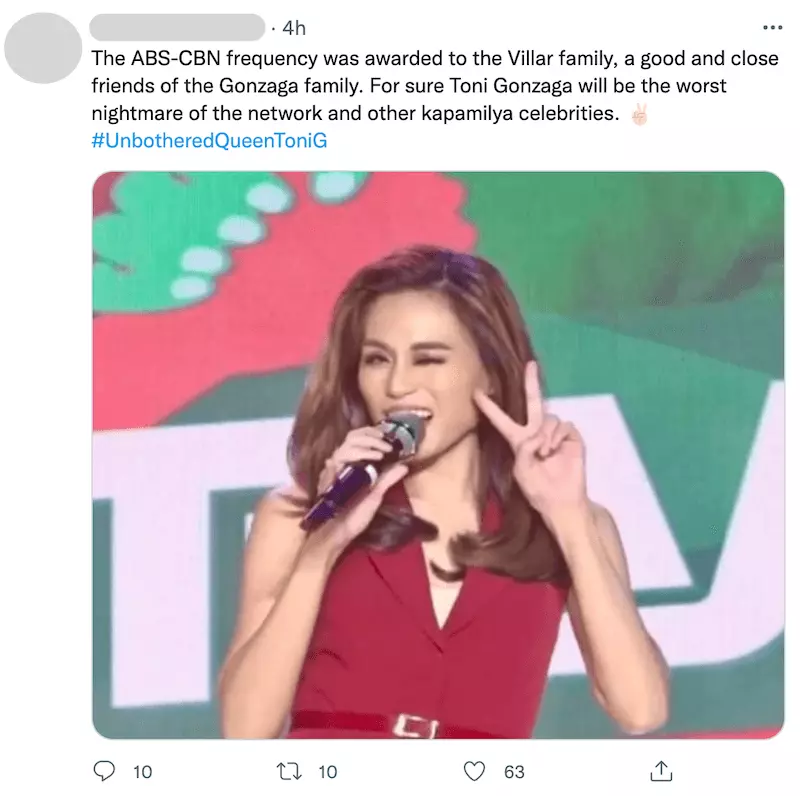 So what's next for Gonzaga? Even though she has a thriving YouTube account, she still needs another source of income. Netizens speculate that the reason behind this controversial move is that Gonzaga has secured a deal with another network. Which network? Many think she may be transferring to the new network owned by billionaire Manny Villar, who recently acquired ABS-CBN's broadcast frequencies, but she hasn't said anything about her future plans.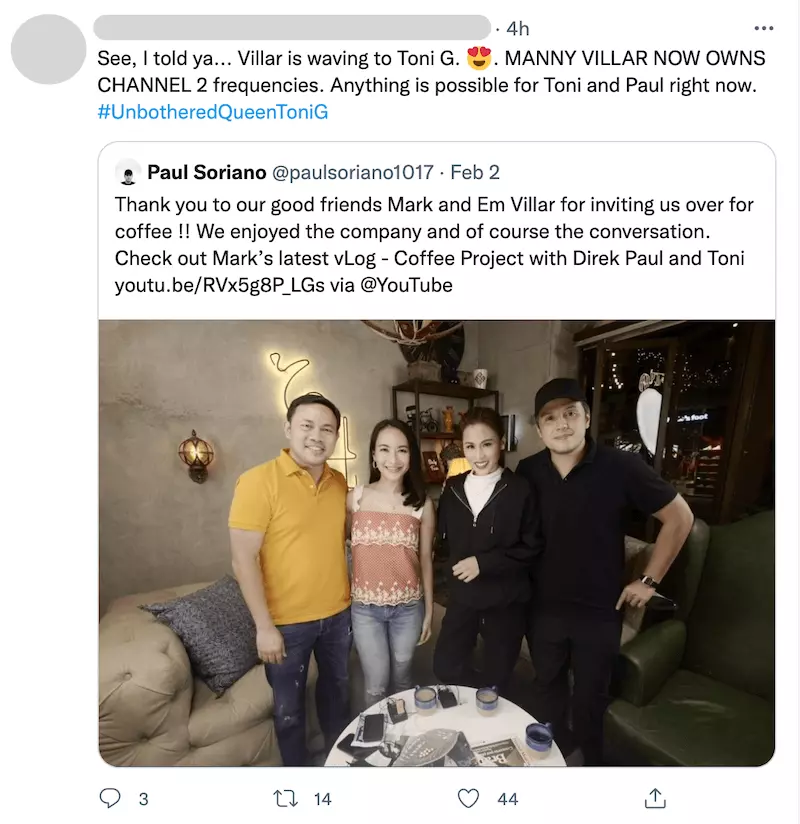 While the actress is yet to talk about what's next for her, she did leave a comment on Instagram that tells us something is in store:
Everyone's excited for Bianca Gonzalez to be PBB's main host
Now that Toni Gonzaga has voluntarily exited from hosting Pinoy Big Brother, Bianca Gonzalez will serve as the reality show's main host.

Bianca along with Robi can handle PBB very well. Also, give chance to others, there are many ex-housemates who have hosting potentials. pic.twitter.com/o5PHn3bljp

— PBB Kumunity Season 10 (@PBBKumunity) February 9, 2022
While there's no official announcement just yet, a lot of Filipinos showed their excitement and support for the change in hosts. Some are even thinking Samantha Bernardo could be a good co-host with Gonzalez along with veteran Robi Domingo.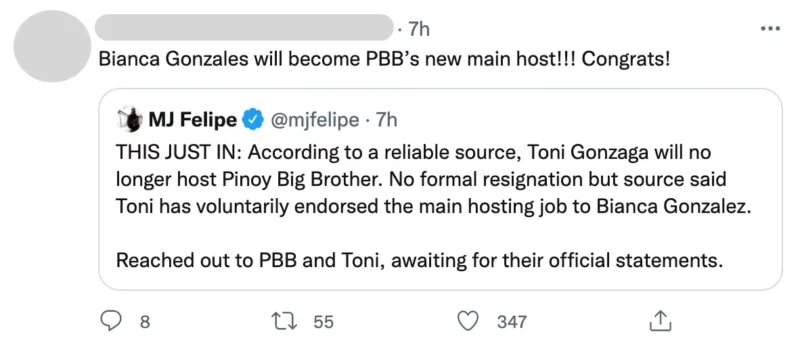 Others compared Toni Gonzaga and Bianca Gonzalez's political views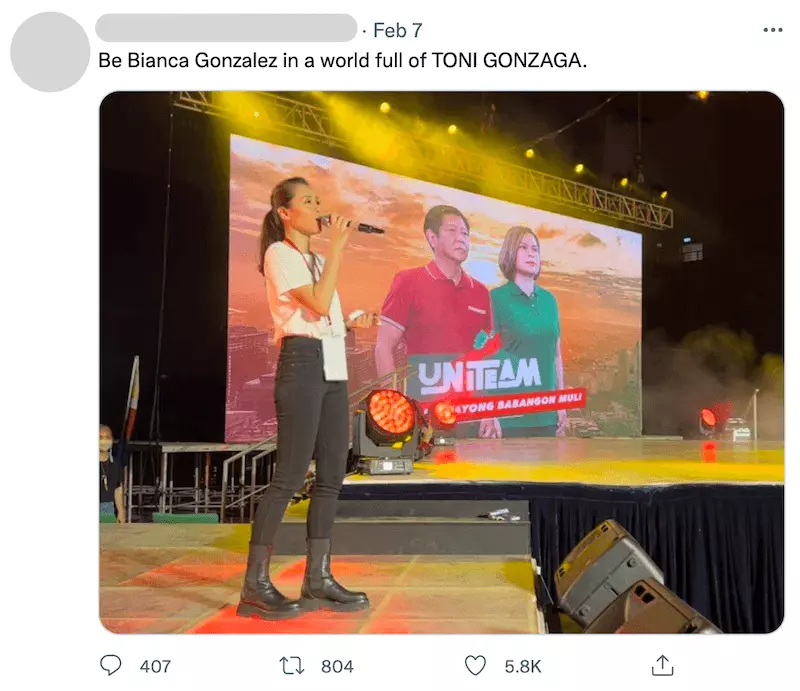 While Gonzaga publicly shows her support for Marcos Jr., whose father is a dictator, Gonzalez has always urged her followers to educate themselves about the atrocities of the Marcos era. Now, Gonzalez is vocal in her support for VP Leni's run for president, even posting an Instagram story of her watching a live stream of the proclamation rally last February 8.
— Bianca Gonzalez (@iamsuperbianca) February 7, 2022
The Internet used this difference to compare both actresses and decide which one is "better." Of course, when it comes to politics, things got heated pretty quickly online. Everyone has opposing beliefs after all.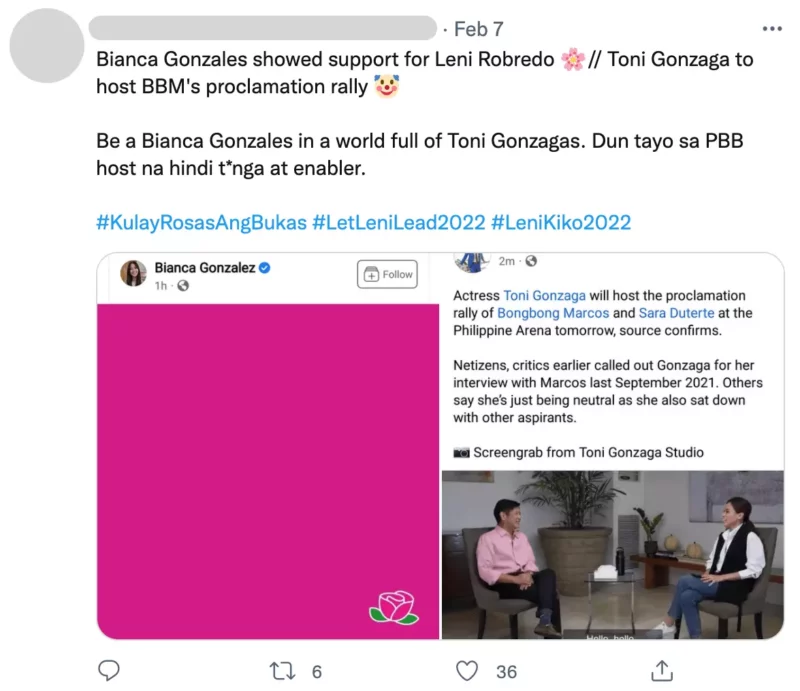 On friendships and politics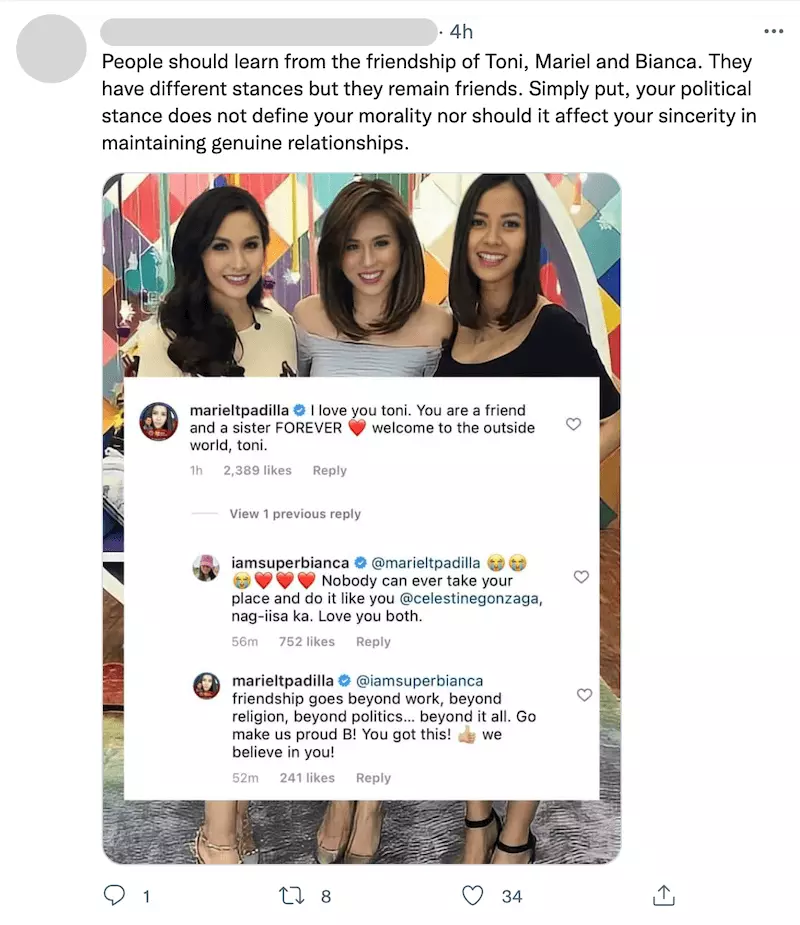 But should one's political stance affect their friendships? Not for Mariel Rodriguez, Robin Padilla's wife. She left a comment on Gonzaga's post congratulating the actress and calling her "a sister FOREVER." If you recall, Rodriguez, Gonzaga, and Gonzalez were co-hosts for PBB in the past and although they don't meet much, the three remain good friends. However, their opposing political views remain an issue for some netizens. Rodriguez addressed this by simply leaving a comment:

Accountability culture
Accountability Culture > Cancel Culture

I wish people understood these are two completely different things

— gab (@gabpangilinan) February 9, 2022
It's chaos on social media right now and with the national elections drawing near, you can expect the clamor to only get louder. But some Filipinos fight to remain as level-headed and as civilized as they can online. Recently, a netizen made a quick thread on why we should stop cancel culture after the Internet mass canceling Gonzaga.
However, calling someone out on dangerous beliefs and how they could harm an entire country is only doing the right thing. Perhaps we should use a better term moving forward. Theater actress Gab Pangilinan words it better: accountability culture. Let's not cancel people for what they stand for, but instead, hold them accountable.
Check us out on Facebook, Instagram, Twitter, and YouTube, and be the first to know about the latest news and coolest trends!