Powerful earthquakes have been hitting the country recently and it's putting everyone on edge. Scientists have warned us of 'The Big One,' a quake so strong it could kill millions of people across the globe and destroy our urban landscape all within a span of a minute. It's not a possiblity. It's a reality in the near future.
Maybe the post-apocalyptic movies won't do it justice, or maybe it will look exactly like the movies complete with explosions everywhere, buildings collapsing and hundreds of people hurt in the streets. But do we really fully understand what this means and what we need to do in order to survive it?
What is The Big One?
The Philippine Institute of Volcanology and Seismology (Phivolcs) has warned of a magnitude 7.2 (or possibly higher) earthquake called the 'Big One' that is bound to hit the country. When? They can't exactly predict.
The 6.1 quake last April 22, 2019 that originated in Zambales and was felt throughout Luzon produced a lot of terrifying videos and posts on social media. The more recent 6.6-magnitude quake that in Cotabato on October 29, 2019 took the lives of people, and was followed by a 6.5 earthquake two days later. If earthquakes of those magnitudes had the power to destroy establishments and make skyscrapers sickeningly sway, what more a 7.2-magnitude earthquake?
The Philippines is no stranger to earthquakes
Our country is located along what's called the Pacific Ring of Fire, an area in the Pacific Ocean where earthquakes and volcanic eruptions frequently occur.
Phivolcs have reported that they record at least 20 earthquake occurrences every day in the country. Most of these we are fortunate to never feel but some earthquakes hit harder than others.
The most terrifying one to date in our country is the 7.8-magnitude earthquake that left over 2,000 people dead in Baguio on July 16, 1990. The epicenter was recorded in Rizal but it was felt all the way in Nueva Vizcaya, Aurora, and Baguio. It lasted for 45 seconds but that was enough to wreck roads, demolish buildings, and leave thousands of families homeless and the damage took people a year to recover from.
Tectonic plates and fault systems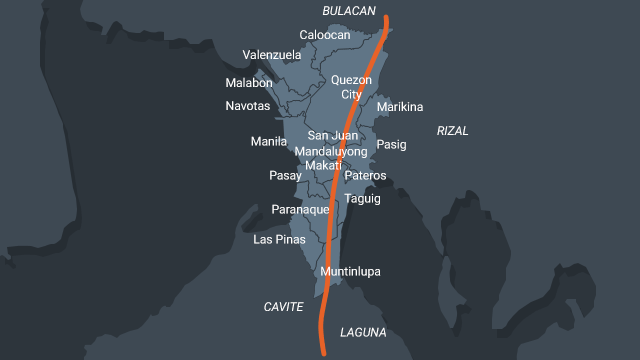 The West Valley Fault Line
Tectonic plates are massive slabs of rock forming the earth's crust and mantle. The three tectonic plates that surround the Philippines are the Philippine Sea Plate in the East, the Eurasian Plate in the West, and the Indo-Australian Plate in the South. These plates tend to push on top of each other creating fault lines and the movements produce powerful earthquakes.
The active fault lines in the country are the Western Philippine Fault, the Eastern Philippine Fault, the South of Mindanao Fault, Central Philippine Fault, and the Marikina/Valley Fault System.
In Metro Manila, the West Valley Fault Line is a 100-kilometer long fault system which passes through multiple cities and provinces including Metro Manila, Bulacan, Quezon City, Marikina, Pasig, Makati, Taguig, Muntinlupa, Rizal, Cavite, and Laguna. This means that if a strong earthquake moves the West Valley Fault Line, it might cut through these cities and split them.
The last time the West Valley Fault moved was in 1658 and scientists estimate that it moves every 400 years. The next time it shifts, it might be in our lifetime or our children's lifetime and a magnitude 8 earthquake could mean destruction for the cities involved.
Imagine the grim predicted damage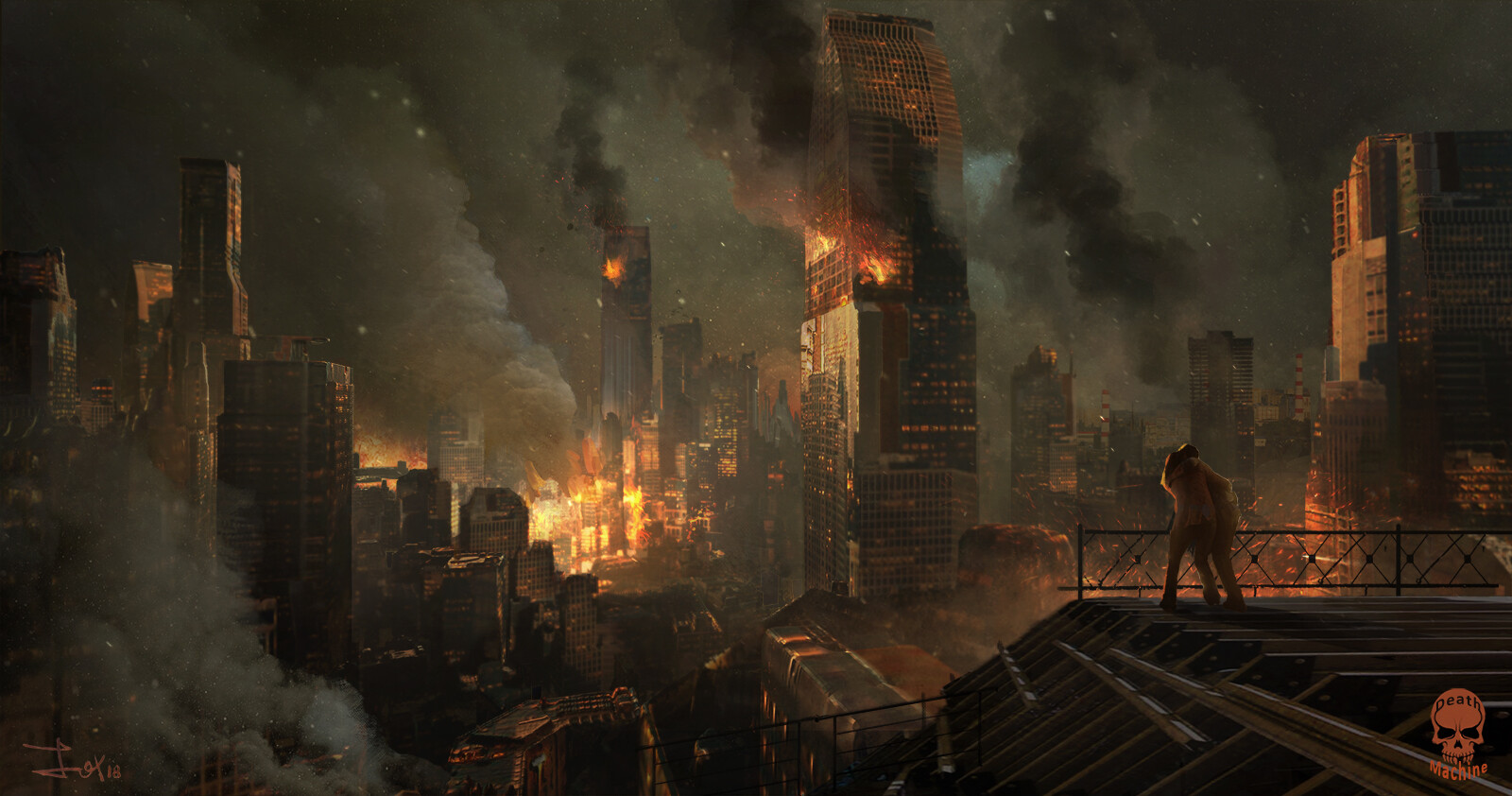 When the Big One comes, the Metropolitan Manila Earthquake Impact Deduction Study (MMEIRS) predict that it will destroy bridges around the metro and damage public buildings. Cut off from other cities, at least 34,000 people are predicted to die and 170,000 residential houses will collapse.
Water distribution pipes will break, electric cables will be cut, and explosions will lead to fires everywhere. Communication will become difficult and this becomes a problem as people can't call for help to put out fires or save them underneath all the rubble. Hospitals will also have a hard time responding to the thousands of victims asking for help. In other words, the picture being painted here is one of chaos.
Humans have always been part of the problem
Although earthquakes are natural occurrences, we have a responsibility whenever it happens. Humans' excessive building of dams, drilling the earth deeper for oil or gas, and even injecting wastewater deep underground all contribute to the pressure and stress on the earth's fault lines. Scientists can only predict earthquakes based on patterns years ago and the West Valley Fault has been has been quiet for 361 years now and in those years, have we treated the earth properly? Imagine the strain the earth's tectonic plates have been gathering!
It's not just the Ring of Fire that will be affected
Ok this is starting to scare me #earthquake pic.twitter.com/G1hW3M5iQO

— I (@dingrid6) October 15, 2019
Across the globe people are preparing for their own versions of the Big One. In California, fault lines are also being monitored closely after it was found that a major fault was moving for the first time on record. California is also where the San Andreas fault could be found, it has been pinpointed before as the likely source of The Big One.
Let's ask the real question: should you be scared?
Nagsigawan at nag-iyakan ang mga empleyado ng isang mall na nasa ika-5 palapag sa General Santos City kasunod ng malakas na pagyanig. (Kuha ni Jaime Rogelio Espina) Jay Dayupay, ABS-CBN News #MindanaoQuakeNarito ang iba pang detalye: http://bit.ly/2Pr6tp5

Posted by ABS-CBN News on Monday, October 28, 2019
Yes you should be and rightfully so. No one knows what to expect or even when to expect it. The earthquake that happened last April 22, 2019 with an epicenter at Zambales damaged buildings all the way in Metro Manila. It was a mere 6.1-magnitude temblor, what more a magnitude 8? Even more recent is the 6.6-magnitude earthquake that struck Cotabato last October 29, 2019 just over a week since it struck the same area leaving 7 people dead. We don't know when the next big quake will happen, we can only prepare.
More than scaring yourselves, preparation is key
2018 Earthquake Drill at Baclaran Elementary School in Paranque
Natural disasters are unpredictable and our best defense is to always be prepared, that way chances of survival are better. Don't brush off earthquake and fire drills, the government implements them for a reason. You can prepare by doing these things: assemble a disaster kit that would last you for at least a week, have a grab bag, arrange a meeting point with your family in case all communications get blocked off, know your building layout, and know the emergency numbers to call.
Got anything else to add? Share it with us below!